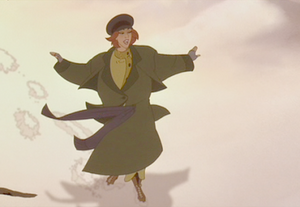 "Journey to the Past" is the theme song from Anastasia. It's also included on the film's soundtrack.
The song was written by Lynn Ahrens, composed by Stephen Flaherty, and originally performed by Liz Callaway in her role as the singing voice of Anastasia.
A pop/R&B rendition of the song was later recorded and released as a single by late R&B recording artist, Aaliyah.
"Journey to the Past" is performed by Anya shortly after she is sent away from the orphanage, following her playful encounter with Poo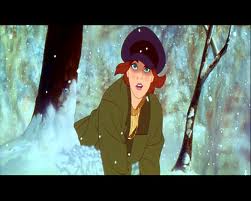 ka. Prior to the song, Anya is pondering whether she should follow orders and go to the fish market, causing her to remain an unknown orphan, or follow her own path and go to St. Petersburg where there she might find a family to love her. Anya decides to travel to St. Petersburg, accompanied by Pooka. During the song, Anya is seen walking on a snow-covered pathway surrounded by a snow forest. As the song progresses, so does Anya's confidence in her decision and her enthusiasm.
The songs speaks about going on an adventure to discover who you really are, in other words, your "past". In Anya's case, the song serves as a piece motivation that encourages her to travel to St. Petersburg and possibly find her family, the truth about her past, and most imprtantly, who she is and where she came from.
Style and Composition
Edit
The musical style of "Journey to the Past" is generally a combination of traditional or orchestral pop and music theatre. It's main instruments are piano and vocals.
Other Appearances
Edit
"Reminiscing with Grandma"
Edit
"Journey to the Past" has few reprises in "Reminiscing with Grandma".
"Journey to the Past" seems to be a main melody for "Finale".